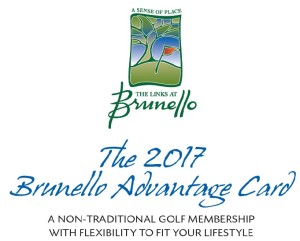 Try before you buy!*
Preferred Golf Rates
The highlights of the card consist of:
Preferred Golf Rates – discounts from 25% – 55% per round on the posted rack rate.
Fully Transferable – the freedom to share your Advantage Card Rounds with business associates, friends and family without any restrictions.
Advanced Tee Time Bookings – reserve your golf up to four weeks in advance.
Flexibility – play by the hole or full round.
Advance Reservations:
Tee times can be reserved up to 4 weeks in advance with no restriction on time or day provided tee time is available. Tee times that are cancelled more than 7 days in advance of play will be subject to an administration fee of $10.00.  Advance reservations cancelled within 7 days of intended play will be non-refundable unless the tee time can be filled, in which case an administration fee of $10 will apply. Once the number of Advantage Card rounds has been used, the named Advantage Card Member may purchase value added rounds for personal use. Only one tee time per day maybe scheduled. Brunello management may permit more than one tee time per day subject to availability.
Play by the Hole:
Not enough time to play 18 rounds …. no problem. You can play as little as one hole up to the full 18 holes, or pick any number in between. Your Brunello Advantage Card will be charged "by the hole".
For example the Silver Package includes 10 rounds, each consisting of 18 holes credited to your account.    Your account will be charged by the holes that are used. The play by the hole option is granted for bookings and play scheduled for the same day.
Please click here for 2017 Rates and Information 
*When you've played at the Links at Brunello via greenfee, you can redeem the cost of the greenfee towards the purchase of an Advantage Card of any level. This applies to a maximum of two greenfee rounds, and may include the cost of greenfees for your entire foursome. So we invite you to Try before you buy! Once you purchase your Advantage Card, the number of greenfee rounds will be deducted from your card.